Tankograd Publishing specialise in titles mainly relating to Soviet and Eastern Bloc WWII and post-war vehicles. Each of the publications are soft covered, A4 centre-stapled format, with high quality glossy paper and plenty of colour pictures.
Each book is packed with detail, mainly in the form of captioned photographs. There is a good mix of photos of vehicles in service and in museums, as well as relevant technical drawings. The text is all in English.
---
Tankograd Gazette Number 13 – July 2001
The Tankograd Gazette is a regular quarterly publication. Each issue is an excellent reference source in its own right.
The highlight of this edition is the detailed coverage of the SU-76 Self-Propelled Gun. This 14 page reference piece will be very valuable to modellers building the available kits in 1/35 and 1/76 scale. The remainder of the content will also be interesting, mainly to post-war Soviet aficionados.
Specific contents comprise: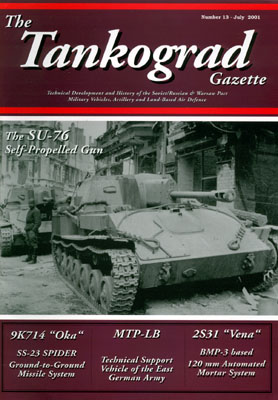 · SU-76 Self-Propelled Gun (14.5 pages, b&w and colour photos; tech drawings)
· 9K714 "Oka", SS-23 Spider Ground to Ground Missile System (9 pages, all colour)
· Romanian DAC 665 T Truck (as used with SFOR – 2 pages. All colour)
· The 76.2mm OB-25 Model 1943 field howitzer (Two pages, all colour)
· MTP-LB Technical Support Vehicle of the East German Peoples Army (8 pages, colour and b&w photos plus tech drawings)
· T-18 Pillbox (1 page)
· 2S31 VENA Automated Mortar System (2.5 pages, full colour)
---