Tankograd Publishing specialise in titles mainly relating to Soviet and Eastern Bloc WWII and post-war vehicles. Each of the publications being reviewed are soft covered, A4 centre-stapled format, with high quality glossy paper and plenty of colour pictures.
Each book is packed with detail, mainly in the form of captioned photographs. There is a good mix of photos of vehicles in service and in museums, as well as relevant technical drawings. The text is all in English.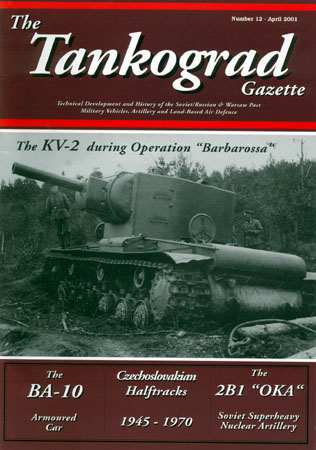 The Tankograd Gazette is a regular quarterly publication. The review sample is Issue No. 12, April 2001. Contents comprise:
The KV-2 during Operation Barbarossa (great wartime shots of abandoned vehicles, plus colour museum detail photos).
The BMP-2 in SFOR Service (a short colour feature)
Czech Halftracks 1945-1970 (from the Sd.Kfz. 251D to the Tatra OT-810 APC)
T-34 Cooling System Maintenance (Part Four of a regular series)
The BA-10/BA-10M Armoured Car (another useful reference pice with wartime and museum photos)
Soviet Superheavy Nuclear Artillery
Beltring War and Peace Show 2001 (a one page summary)
1L22-1 PAROL IFF System (museum reference photos)
The T-28 in Wehrmacht Service
The other publication, "US Army Heavy Wreckers of World War II", is No. 1001 in a new Military Vehicle Series. The Ward LaFrance and Kenworth M1/M1A1 family of wreckers is well covered in captioned photos and drawings.
This will be essential reading for anyone contemplating building the Accurate Armour Ward LaFrance wrecker in 1/35 scale.
Both Recommended.