Sturmgeschutz III Ausf. G
Walk Around
By Tom Cockle
Color by Don Greer
& Andrew Probert
Illustrated by Mariano Rosales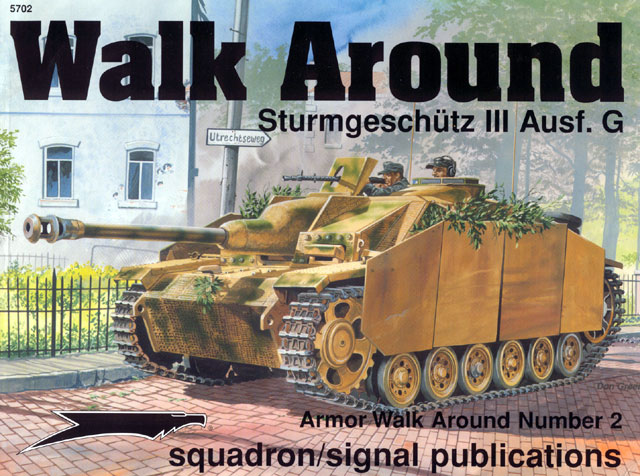 Squadron/Signal Publications
S u m m a r y

Catalogue Number:
5702 - Armor Walk Around Number 2
ISBN:
0-89747-434-1
Media:
Soft cover, landscape format, 80 pages plus covers (incl. 40 pages in full colour).
Price:
US$12.96 from Squadron.com
Review Type:
First Read
Advantages:
Good sequential description of variants and variations; perfect format for modellers; extravagant use of colour; packed with 175 images; useful captions; 12 colour side profiles plus two full-page colour paintings (front and rear covers).
Disadvantages:
Coverage of German wartime vehicles only; minimal coverage of field modifications.
Recommendation:
Recommended as a handy reference for anyone building a Sturmgeschutz IIIG
Reviewed by Brett Green


Squadron-Signal's Sturmgeschutz IIIG Walkaround is available online from Squadron.com
More than 9,100 examples of the Sturmgeschutz III Ausf. G and the StuH 42, its howitzer-equipped counterpart, were built between October 1942 and May, 1945.
The Sturmgeschutz III was based on the chassis of the Panzer III. The new turretless design permitted the installation of a larger main weapon, heavier armour and a lower profile. The Sturmgeschutz III Ausf. G was the last variant of the line, but many significant design changes were incorporated between 1942 and 1945. These hard-worked vehicles were used in the anti-tank and infantry support role.
"Sturmgeschutz IIIG Walkaround" is only the second in Squadron's Armor Walkaround series. The book contains a comprehensive photo-essay of the details on surviving Sturmgeschutz IIIGs. The vehicles are well covered, inside and out. The book is also peppered with operational photos.
This book follows Squadron's proven Walk Around format. It is packed full of more than 175 relevant and well captioned photographs. The book is in landscape layout, with 80 pages between its soft cardboard covers. Inside, the book presents two pages in black-and-white then two in colour for the whole 80 pages. The 40 full-colour pages are used to good effect with many large detail photos and twelve colour profiles. Every page has between one and four well-captioned photos, plus a smattering of plans and scrap-view drawings.
The focus of the book is the development of the Sturmgeschutz IIIG as it was delivered from the factory to German units. Common field variations such as concrete reinforcement of armour, customised stowage and other oddities (eg, logs as side armour) are barely touched in this volume. In addition, although there are a few photos of Finnish museum vehicles, the unique attributes of the "Sturmi" are not covered.
A half page of text introduces the history of the Sturmgeschutz III, but the walkaround tells the bulk of the story. Captions are detailed and helpful. There are a few pages with drawings comparing the superstructure variations, and I would have liked to have seen similar pages comparing the lower hull, suspension and armament.. However, in combination with the drawings, the captions do a good job of describing the major improvements and modifications over the life of the vehicle.
This book sets out to provide a walkaround outlining the development and detail of the Sturmgeschutz IIIG, and it succeeds in this task admirably.
Squadron/Signal's Sturmgeschutz IIIG Walkaround will be a very useful and compact reference for anyone planning to build this important German vehicle.
Recommended.
Thanks to Squadron for the review sample.
---
Review Copyright © 2002 by Brett Green
This Page Created on 18 February, 2002
Last updated 22 July, 2003
Back to HyperScale Main Page
Back to Reviews Page