Pz.Kpfw.753(r)
mit 7.5 KwK 40 Heavy Tank
&
Pz.Kpfw 1/1a 753(r)
Heavy Tank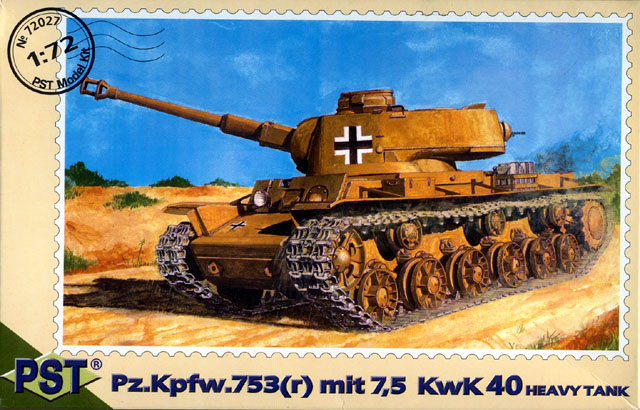 PST


PST's 1/72 scale Pz.Kpfw 753 kits are available online at Squadron.com
S u m m a r y

Catalogue Number:
72027 - Pz.Kpfw.753(r) mit 7.5 KwK 40 Heavy Tank (pictured above)
72026 - Pzkpfw 1/1a 753(r) Heavy Tank
Scale:
1/72
Contents and Media:
156 parts in dark grey and light grey plastic (for the tank) plus 58 "link and length" sections of track
Price:
USD$9.46 each from Squadron.com
Review Type:
First Look
Advantages:
Crisp detail; no noticeable imperfections (sink marks, ejector pins etc) on facing surfaces; nice outline; fine detail for difficult areas such as track guard mounts; some small parts exceptionally well done; link and length tracks with detail on both sides; clear instructions; options for Pz.Kpfw 1/1a to be finished with alternate cuploas or even as a standard Soviet vehicle.
Disadvantages:
Inaccurate track shoe pattern – especially on the track "lengths"; track lengths on upper run will make characteristic "sag" difficult to attain; oversimplified jerry cans; overstated bolt detail on drive sprockets.
Recommendation:
Recommended to wargamers and small-scale armour enthusiasts.
Reviewed by Brett Green
With its heavy armour and long-barrel 76mm gun, the Soviet KV-1 came as a nasty surprise to the German Army in 1941. On a tank-to-tank basis, the KV-1 was greatly superior to any of the German gun tanks in 1941. Understandably, captured KV-1s became treasured prizes to Panzer troops. These vehicles were hastily repainted with oversized crosses and pressed into service against their former owners. This variant was known as the Pz.Kpfw 1/1a 753(r). Other KV-1s were more thoroughly overhauled and were equipped with with a redesigned turret, the superior German 7.5cm KwK 40 gun, and German-style stowage. Not surprisingly, these were labelled Pz.Kpfw.753(r) mit 7.5 KwK 40

PST has added these two German variants to their range of 1/72 scale KV-1 tanks.

Each small somewhat flimsy box is packed full of around 156 parts for the tank itself, plus an additional sprue with 58 "link and length" sections of track. The sprues are presented in a piebald combination of greys (no paint required?), and the production quality is impressive. There is virtually no flash, and no evidence of sink marks or ejector pins on the facing surfaces of any of the parts – even the track links!
The main parts are also impressive. The upper hull is a single piece. Detail is crisp and restrained. The moulded mesh on the rear deck looks great, and the trackguard supports are appropriately fine. The turret features a very subtle cast texture, and other minor details are equally well rendered. PST has even represented weld beads on parts including the turret sides.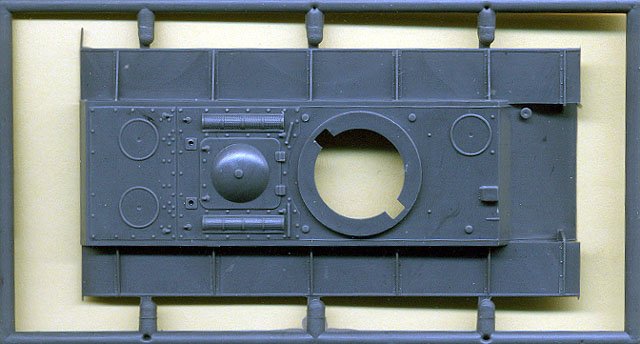 Roadwheels and idler wheels look terrific, but the bolt detail on the drive sprocket is somewhat overscale, and the rims of the return rollers are slightly lop-sided. The jerry cans are also missing their handles.

The construction sequence is typical of Eastern European kits. The lower hull is multi-part; made up of the floor, sides (with moulded-on suspension arms and axles) and a separate back plate. Construction is otherwise similar to any other small scale or large scale armour model.

The Pz.Kpfw.753(r) mit 7.5 can only be built as that version as the turret roof for the standard KV-1 is missing. You'll get a stack of spare Soviet-style fuel drums and stowage boxes though, as these parts are not used on the German tank. The Pz.Kpfw 1/1a 753(r) Heavy Tank offers optional cupolas, making it possible to build a German or a Soviet tank.


Track links are the classic good news and bad news. The good news is that the links and lengths are detailed on both sides, and have absolutely no evidence of ejector pin or sink marks. This is truly amazing – especially in this scale. The bad news is that the pattern of the track shoes does not look anything like that of the KV series. The links are better than the lengths, but they will probably all look better under a thick coat of Russian mud! This problem is most likely a result of moulding limitations rather than poor research.

The top track run is supplied as a single length. This will be pleasing for modellers who do not like individual track links, but will make it more complicated to achieve the characteristically heavy track "sag" typical of KV-1 and its variants. We can only hope that there are a few extra individual links to make up the difference if the modeller chooses to bend the styrene upper track run into a sagged shape.

The instructions are quite adequate. Construction is called out over 11 steps. Painting instructions are also supplied.
This is the first time I have come face to face with one of PST's small-scale armour releases and I am suitably impressed.

This model looks like a KV-1, and demonstrates great detail for this small size. My minor criticisms are probably all the result of moulding limitations in this scale.

Both of these kits should build up into impressively detailed and accurate models for display or wargames.

Recommended.
---
Review and Images Copyright © 2001 by Brett Green
Page Created 30 August, 2001
Last updated 22 July, 2003
Back to HyperScale Main Page
Back to Reviews Page