Achilles IIc
British Tank Destroyer
Academy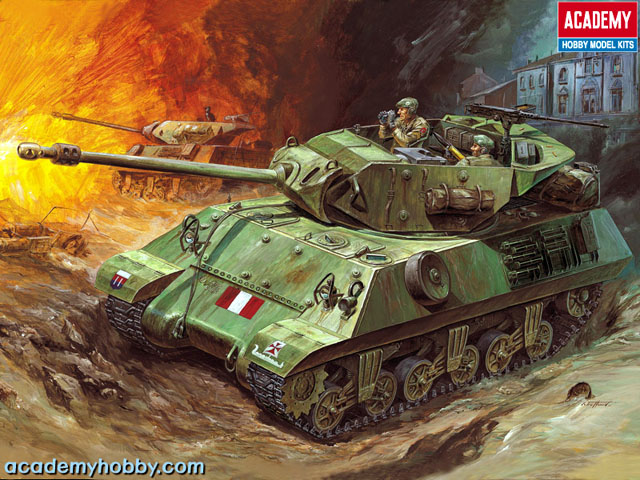 S u m m a r y

Stock No. & Description:
Kit No. 1392; British Tank Destroyer Achilles
Contents and Media:
565 parts (562 in sand tan styrene, 2 in steel colored vinyl, 1 nylon string)
Price:
RRP USD$35 (USD$29.96 online from Squadron.com)
Scale:
1/35
Review Type:
First Look
Advantages:
Amazing kit with tremendous level of detail; "prepared" for after market detail additions; "H" sprue nearly worth the price of admission on its own
Disadvantages:
Choice of relatively esoteric version of this vehicle may hurt sales
Recommendation:
Highly Recommended for all Commonwealth armored fans and small postwar army followers, as well as all "Shermaholics"


Academy's 1/35 scale M10 Achilles is available online at Squadron.com
Reviewed by Cookie Sewell
I saw the preliminary review on this kit from Peter Brown in the UK, and as a died-in-the-wool Sherman fan had to pick one up no matter what. I must preface things with saying that I may never build it as the Achilles, but the kit is one of the best recent plastic kits I have personally seen, and considering what's in the box a tremendous value for the money.

I won't steal any of Peter's thunder, as he has been to the IWM and Public Records Officer several times in recent weeks to check on vehicles such as this and has the latest information on it. Suffice it to say that M10 and Achilles were used as synonyms, but not on a regular basis.

The kit represents a 17-pounder conversion of the final production model of the M10 3" GMC with the "duckbill" counterweights fitted to the turret, and the rearward slanting turret rear to provide more room for the crew. It comes with a plethora of details, not all of which are accurate for this particular version, but one of the most appreciated will be a very nice set of vinyl "British style" steel chevron tracks. These are very nicely done, with the three studs on the surface, and only a small "teat" on the inner face of every 10th link or so to clean up.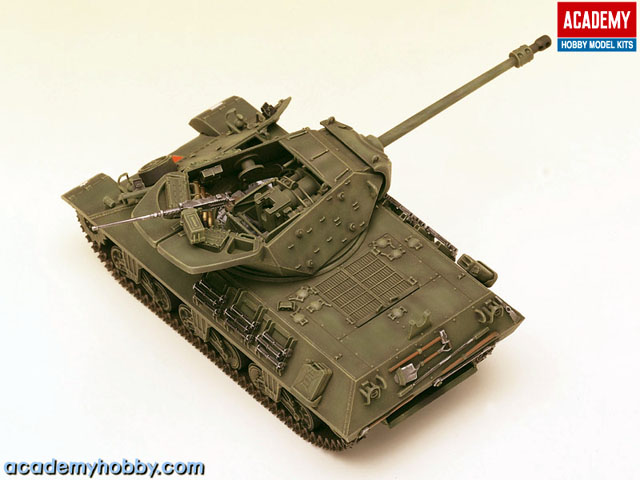 Academy cut a special hull top and "E" sprue for this kit, and the rest of the layout bodes very well for Sherman or just US M4 series tank fans. Some are plainly marked "Sherman series" so they would appear to have more kits planned beyond the current Achilles, M10 and M36 vehicles.

The parts layout in the kit suggests that the M10 and M36 will share some sprues, as a separate engine deck with the M4A2 style louvers indicative of diesel engines are included on one of them. (Only the louvered doors, parts C19 and C20, are needed for the Achilles). Of note to engine fans is the fact that the engine bay major components are also provided, needing only engines and radiators to complete (Note: The Tank Workshop makes an M4A2 engine bay set which should fit this model, but I am willing to bet that Model Valley – a Korean resin company that appears to have some relation to Academy – will have a "drop-in" engine assembly for this model soon). A reasonably complete front-end interior, including the SCR-508/608 style radio set, is included with the kit.

There are two different transmission covers ("Rounded" and "Sharp-nose"). They also provide the optional bogie component set which came with the M12 155mm GMC kit, which provides for either cast or welded ("spoked") wheels and early or late track skids on the top of the bogies.

The rest of the model is very nice with the glaring exception of the upper rear hull panel, which has "outlines" cast on it for mounting the tool sets. This is pretty lame considering the rest of the kit, as the concept went out of style in the early 1960s, and someone at Academy needs to get their wrist slapped for letting it go out the door on a kit of this quality. There are a few large knock-out pin marks inside the turret which will have to go, but overall they are at a minimum and kept out of sight. Also the decal sheet is incomplete (doing only one and a half vehicles) and in my example one item was off register.

One error several people have spotted is that British crews did not store 17-pounder shells in cardboard tubes as US crews did with their ammunition. The model comes with 32 rounds stored in cardboard tubes, which are wrong for a British vehicle with the big gun. The projectiles which come with the turret sprue seem correct, and it only takes a few seconds to see that these rounds will not fit in those tubes.

But one of the best items in this kit is Sprue "H". This is a really useful set of bits, and includes the following items: a pair of five link "extenders", similar to those found on the old MP Models M4A4 hull, so the vinyl tracks can fit on an A4 chassis; six spare T51 smooth non-reversible shoes, with a choice of either US or UK style stowage racks; three whip antenna mounts, including one which is angled at 45 degrees; three jerry cans (one German and two US style), all with separate carrier bases provided and needing only straps to complete; two late production "dish" type M4 VVSS series wheels; and the neatest bits of all, add-ons in styrene. These amount to 21 bolt heads, 7 rivet heads, 7 studs, 15 buckles in three different styles, 10 tie-down brackets, five wing nuts, and a complete alphabet plus two number sets of 0-9 and casting marks for two foundries. (One unfortunate thing is after all this Academy doesn't tell you what sort of numbers should go on the vehicle, or where – they only indicate the mantelet should have a number attached to it.)

The kit also includes Academy's Sprue "D", a generic Sherman sprue, which provides nice little bits, a good .50 caliber and .30 caliber machine gun, and decent pioneer tools. (If they sold this one separately, it would permit rapid upgrades to all Italeri and DML kits out there suffering from anemic tool set syndrome.)

Overall, the quality of this kit is astounding. The choice of the Achilles, until the history of the actual vehicles becomes wider known, may not be the best as it is a very small part of the US Tank Destroyer story. But if nothing else, this kit is a standard setter, and one of the best bargains on the market today.
Cookie Sewell AMPS
---
Review Copyright © 2001 by Cookie Sewell
Images Copyright © 2001 by Academy Website
Page Created 09 October, 2001
Last updated 22 July, 2003
Back to HyperScale Main Page
Back to Reviews Page