BMP-3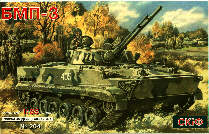 SKIF
| | |
| --- | --- |
| Catalogue No.: | 204 |
| Scale: | 1/35 |
| Media: | Styrene and Vinyl |
| Review Type: | In-Box |
| Rating: | Highly Recommended |
Reviewed by Cookie Sewell
S u m m a r y

Contents:
318 parts (308 in grey styrene, 10 in black vinyl)
Price:
L19.95 (around $34)
Advantages:
First kit of this vehicle in plastic; many optional position parts; partial interior (crew section and turret) included
Disadvantages:
Some sinkmarks and heavy detailing, but no worse than other SKIF kits; lack of interior details other than add-on parts; low distribution of original may lead to low recognition; no options other than Russian or Urkainian variants proscribes building actual export models
Recommendation:
For modern Russian and "Third World" armor fans



During the early 1980s, the Soviet General Staff returned to its Great Patriotic War roots and recreated what they saw was the best formation to defeat a massive enemy armor grouping: the Operational Maneuver Group. This force was designed to be based on a tank army or tank division, and to break through into an enemy's rear area and destroy as much of his military infrastructure as fast as possible, permitting the rest of the Soviet forces to proceed forward with little to stop them. But the BMP-1 and then-new BMP-2 were not felt capable of providing sufficient firepower, and as a result a new, heavily armed and armored vehicle was required.

The search led them to reexamine a related pair of failed light tank and infantry fighting vehicle designs called Object 685 and Object 688, both of which dated from 1981. The turret from Object 685 was rearmed with a new low- pressure 100mm gun and paired 30mm cannon, given a coaxial 7.62mm gun, and placed on Object 688's hull. The new vehicle, again called Object 688, was felt to be capable of performing as the standard IFV with the Operational Maneuver Group as well as an airborne or amphibious light tank. It was accepted for service in 1990 as the BMP-3. Unfortunately, by that time both the Soviet Union and the Operational Maneuver Group requirement were things of the past, and as a result, less than 100 were in service with the Russian Army.

Since that time, however, the BMP-3 has been popular with Third World countries, mostly in the Middle East, and sales of over 1,000 abroad have keep the Kurgan Machinery Construction Plant afloat during times of no sales to the Russian Armed Forces. Cooperative efforts with France have provided those vehicles with air conditioning and a thermal viewer, and this has been one of the few bright spots for the Russian defense industry.


SKIF has followed its modern T-80UD and T-64A kits with the BMP-3, and unlike the other two, also have included a basic crew and fighting compartment interior with this kit. This comprises all of the seats, the autoloader and turret basket floor, 20 rounds of 100mm ammunition and eight AT-10 "Bastion" guided missiles, a rudimentary gun breech for the 100mm weapon, and twelve optional position hatches. The kit also includes two-section tracks in black vinyl, as well as mudguards and the cables for the tow cables.

Detail is very good if a bit heavy, but many small details are missing, especially the 30mm gun and feed arrangements and most of the autoloader for the 100mm gun. All of the interior fittings such as wiring and lights, as well as the firing ports, are missing as well as most of the driver's controls (he gets a decal for the instrument panel though). If you truly want the interior to be seen, prepare for a lot of work and research to find details. (The model is finished internally to what one could call "sales brochure" levels.)
Externally, the model matches up well with the published information on the vehicle. Note that the BMP-3 is a large, heavy vehicle, and weighs nearly 40,000 pounds combat ready (around 18 metric tons). Also, the BMD-type adjustable suspension featured on the original – a legacy of its proposed "Airborne Tank" function – is not portrayed here.

Markings are included for a BMP-3 in Ukrainian service, which to the best of my knowledge is fantasy as they did not ever deploy any to Ukraine in combat unit strength! The numbers are acceptable, but the Ukrainian markings (flag and trident of Volodymir) should be saved for another day. Color schemes and finish are correct for the Russian versions (first page) which cover the sand/olive drab/black versions. The second page – which provides what appears to be a "desert and mountain" scheme of sand/light earth/brown -- does not match photos of those sold to Kuwait and the UAE, and should be avoided. It may be based on the last Soviet Army painting regulations, which perhaps covered more than the European Russia schemes used since the late 1980s; however, I have no references to any such finish in service.

Overall, this is a nice little kit and will fill in one of those pesky blanks on the shelves of Russian armor fans. Hopefully the after-market boys will provide the other bits for doing the variants in service with the Third World and make the options a bit more varied. By the way, Russia has a number of other vehicles which are offered on this chassis as well, of which the best known is the BREhM-L light recovery vehicle. More to come from SKIF?

Cookie Sewell

---
Review Copyright © 1998 by Cookie Sewell
Also Visit Track-Link for the best of Armour Modelling
Page Created 25 October, 1998
Last updated 22 July, 2003
Back to
HyperScale Main Page
Back to Reviews Page